The 14th year of Memorium for Yitzhak Rabin will be commemorated in the upcoming days when his multifaceted legacy will be honoured.  For the Sydney evening, see the State Zionist Council website – the evening will also include the premiere screening of the film "Unsettled".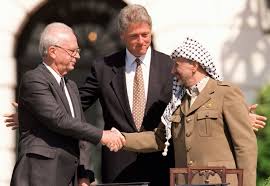 The Rabin Centre in Israel provides a rich tapestry of his life, with the educational goals of the Centre strongly emphasising democratic values.
Rabin's inspiring lecture on receiving the Nobel Peace Prize in 1994 is shown here.  It begins:
"At an age when most youngsters are struggling to unravel the secrets of mathematics and the mysteries of the Bible; at an age when first love blooms; at the tender age of sixteen, I was handed a rifle so that I could defend myself – and also, unfortunately, so that I could kill in an hour of danger.
That was not my dream. I wanted to be a water engineer. I studied in an agricultural school and I thought that being a water engineer was an important profession in the parched Middle East. I still think so today."