Every so often, the Jordan option reemerges as a potential solution for the Israel-Palestinian component of the Middle East conflict. 
Most recently, the Jerusalem Post published an article August 12 entitled Israel: We won't make Jordan Palestine describing a secret Israeli mission to reassure Jordanians that Israel is not pushing for this track, and to maintain the current positive ties between the 2 countries.   This mission followed a July statement by President Peres in which he called the Jordan is Palestine proposition baseless hallucination.  In turn, this was in response to statements supporting this viewpoint by Arye Eldad, as part of a Knesset conference organized by Likud MK Tzipi Hotovely on alternatives to the two-state solution.
So who is Tzipi Hotovely? She is a new Likud Knesset member who we are likely to hear more from in the future.  Hotovely is a 31 year old religious woman who finished in the top 16 in the Likud primaries just weeks after a decision to enter politics.  A skilled orator who has appeared on a weekly political TV program on Channel 10 for 3 years, she stated her plans to be active in 3 areas in the Knesset: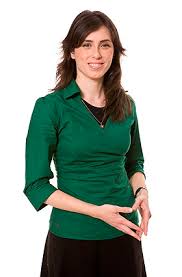 First, keeping the Land of Israel for the Jewish people:  She stated that "my goal is to stop the next Disengagement.  In terms of security and the Land of Israel, I am in Benny Begin's camp, very much in the nationalist sector… According to Hotovely, the disengagement (from Gush Katif and northern Shomron) was non-democratic and associated with corruption, and she feels that Netanyahu will not follow that path.
Her second goal is education – to focus more on tradition and Jewish identity. Her third issue is to make Israel's case in the media, both internationally and in Israel.
Hotovely was born in 1978 to parents who immigrated to Israel from the former Soviet state of Georgia, and she grew up in Rehovot.  She did her national service as a Jewish Agency representative in Atlanta, Georgia and was then an International Bnei Akiva emissary in Paris.  On behalf of the World Union of Jewish Students (WUJS), she represented Israel in South Africa.
Hotovely was editor of the Law Review at Bar-Ilan University and is/was studying for her PhD in law at Tel Aviv University.  She also has an extensive education in Jewish studies, and has been a publicist for national and religious issues, including writing a column for the Maariv daily.
Returning to the Jordan is Palestine option, it is useful to examine a few commentaries about it – first one from some time ago (1988) by Daniel Pipes, a poll from the Jordan Times reported in 2008, and recent observations by Marc Lynch and Sarah Honig, with their accompanying letters.
Tangentially, Andrew Bostom summarises the point that "Jordan covered 78 percent of Palestine as designated by the League of Nations in 1922. Turning a blind eye to article 15 of the League of Nations Mandate, Great Britain decided in 1922 that no Jews would be authorized either to reside or buy land in what was now the Emirate of Transjordan. This decision was ratified by the kingdom of Jordan in its law No. 6, sect. 3, of April 3, 1954 (reactivated in law no. 7, sect. 2, of April 1, 1963), which states that any person may become a citizen of Jordan if he is not a Jew. Even when Jordan made peace with Israel in 1994, this Judenrein legislation remained."