Gabriel Allon has probably done as much as anyone in recent years to put a sympathetic face to Israel's struggles in an often inhospitable, dangerous and unfair world.  Allon's world includes Islamic jihadists, manipulating Swiss billionaires and Russian oligarchs.   
In The Defector, Daniel Silva's latest page turner, reluctant Mossad hero/ master art Restorer Gabriel Allon has to confront the revenge of the Russian oligarch from the best-seller Moscow Rules.
Daniel Silva, who lives in Washington, captures much of the essence of our turbulent times. His authenticity is helped by his initial career as a United Press International (UPI) journalist, where his reporting from the Middle East included some fairly scary personal experiences. 
Here is a Washington Book Festival interview from 2007 shortly after the release of his thriller The Secret Servant.  Those of you who are already fans will chuckle at Silva's response to the question "what does Israeli intelligence think of his depiction of the Mossad" – short answer – "they like it", and will be interested in his scornful dismissal of the film "Munich".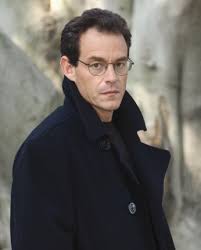 Daniel Silva brings us a multidimensional Mossad hero – Gabriel Allon.  In real life, the Mossad and other arms of Israeli intelligence undoubtably play a major though shadowy and  danger-filled role in protecting Israel.