picking fruit, sky-dive instructor, selling paintings .. a new holiday job for Israelis that provides travel opportunities seems to be security on cruise liners.
According to this article recently published in the English Times, the Italian cruise ship MSC Melody was attacked by Somali Pirates.
"They started firing like crazy at the ship," Commander Pinto said of the attackers, who struck in international waters 200 miles north of Victoria in the Seychelles and 600 miles off the Somali coast. Fortunately, the pirates were repelled by Israelis security guards on the ship who responded by firing pistols into the air and spraying them with a firehose. Domenico Pellegrino, the managing director of MSC, confirmed that the ship was protected by Israeli security guards. "We use them because they are the best — and we have just had a demonstration of that," he said.
Comments ranged
from: Well now we the Israelis are waiting to hear how we are aggressors and violent. We expect all western countries to condemn the Israeli attack on poor Somalian pirates.
to: Thank G-d for Israel!
and: Fortunate that the British Navy had not been engaged to defend the cruise liner – no doubt a quick surrender would have taken place, hostages taken, ipods removed and fags smoked.
Although pirates have lost some of their cachet, it's hard to not wonder whether there were ever Jewish pirates. And of course there were! Fortunately, in 2008, New Yorker Edward Kritzler published a book about Jewish Pirates of the Carribean and talks about it here.
He describes how the Spanish Inquisition forced many Jews to flee Spain, and some became pirates in the Prophet Samuel, Queen Esther, and Shield of Abraham, among other ships.
They plundered the Spanish fleet and helped provide safety to Jews fleeing the inquisition. Figures included "The Great Jewish Pirate" Sinan, Barbarossa's second-in-command; the pirate rabbi Samuel Palache; and Moses Henriques, who captured the Spanish silver fleet in 1628–supposedly the largest heist in pirate history.
In Jewish Pirates of the Carribean, you can also read the author's response to a popular conversation topic – Christopher Columbus's possible Jewish ancestory.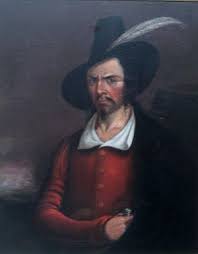 The Jerusalem Post chimes in with an article about who may be the most famous Jewish pirate, Jean Lafitte (pictured), who eventually became an American citizen in New Orleans and then Galveston, Texas.
Flavius Josephus makes probably the earliest reference to Jewish pirates, setting out from Caesaria, (which incidentally has been wonderfully restored and is a great tourist visit if you haven't seen it for a few years)
Arrrrgh, Oi vai iz mir Matey!, Yo ho ho an' a bottle of Manischewitz …